Submitted by J. R. Clarke on Fri, 19/01/2018 - 12:18
---
Your new library system is alive! As Walt Disney found out when he opened Disneyland, complex systems inevitably come with unexpected glitches and require some housekeeping. Here's where we are at...
Backlog
From today, thanks to the hard work of our library team we have returned, renewed and issued all your library loans that had accrued over the interim period between systems. At the same time, we've been waiving fines as part of our January fines amnesty policy.
My Library Account
Please login to your Account via http://idiscover.lib.cam.ac.uk, then "Login to iDiscover" (on the right-hand side of the top navigation bar), then "Login to My Library Account", to check what's on your account. From here, you should be able to manage your loans, renewing them where necessary. If you have any issues logging in, please contact us. If you have any problems managing your loans, please contact the library who owns that book.
Fines
Please be aware that we will forgive any fines accrued up to and including 18 January. Any loans borrowed after that date will be due after the end of our January fines amnesty, and therefore be valid fines.
Known issues
All our Part III students have been listed as "undergraduates" on the new system meaning that each renewal will only last for 2 weeks, not the normal 8 weeks! Apologies! This is a system-wide issue but we expect to have it fixed in due course.
We haven't managed to waive all incorrect fines yet; please do not panic. If you still see fines on your account, please point these out to us, and we'll waive these.
Some folks still can't log-in to My Library Account, or aren't able to renew their Moore Library loans. If this is you, please contact us!
Major improvements
You should now be able to pay your fines remotely from your library account - see 'My Library Account' in iDiscover.
From your library account, you should now see a "Renew all loans" button which will enable you to renew all your loans from participating libraries in one go. Alternatively, you can just select the ones, you want to renew.
You will now get double the amount of loans previously allowed at the Moore library.
If you had full borrowing rights before, you will now get double the initial loan period, and double the maximum loan period before you have to return the loan.
Undergraduate users, not including Part III's (who get full borrowing rights), will now get double the maximum loan period before they have to return the item.
You will now be able to renew your loans when you want, without penalty, up to each loan's maximum loan period.
In short...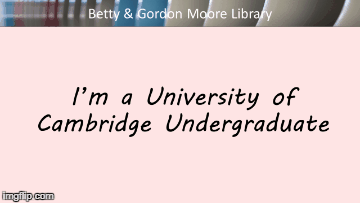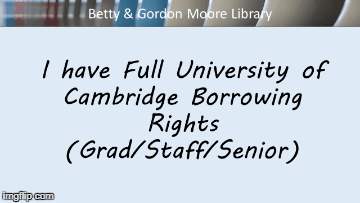 Our undying thanks for your patience during this "interesting" time of change for all of us.