Feedback Whiteboard & E-Board
We're always keen to read your thoughts and suggestions to help us to improve your library experience and your time at Cambridge.
If you would like to do so, please feel free to use our feedback whiteboard on the ground floor in the library.
Alternatively, you can leave some feedback (anonymously or otherwise) using this Feedback E-Board link.
Click here to see the Feedback Archive.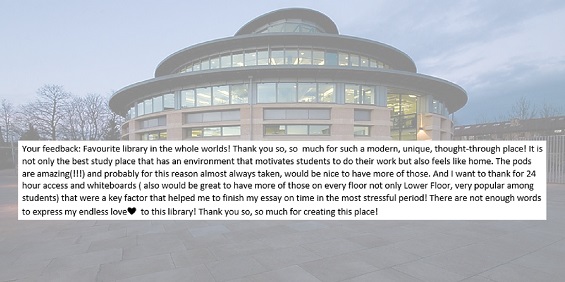 Feedback Archive
2015/16
Board 1 | Board 2 | Board 3 | Board 4 | Board 5 | Board 6 | Board 7 | Board 8
2016/17
Board 9 | Board 10 | Board 11 | Board 12 | Board 13 | Board 14 | Board 15 | Board 16 | Board 17 | Board 18 | Board 19 | Board 20 | Board 21
2017/18
Board 22 | Board 23 | Board 24 | Board 25 | Board 26 | Board 27 | Board 28 | Board 29 | Board 30 | Board 31 | Board 32 | Board 33 | Board 34 | Board 35
2018/19
Board 36 | Board 37 | Board 38 | Board 39 | Board 40 | Board 41 | Board 42 | Board 43
2019/20
Easter Term
Michaelmas Term
Lent Term
2022-2023:
Michaelmas Term
Lent Term
Easter Term