University of Cambridge users
PRICE INCREASE FROM AUGUST 2017
With effect from 1st August 2017, requests for Inter-Library Loan will be charged at the following prices per item:
 
£5.00 - Cambridge University Members & Alumni
£12.00 - Readers
All renewals, regardless of lender, will incur a £5.00 renewal fee. In the event that we are unable to acquire the material, a full refund will be issued.
This is an internal inter-library loans service which we offer to our registered readers wishing to access material not held within Cambridge University. This service can also be used if availability is limited to either membership of a specific college or department or where building works would prevent access to library resources in Cambridge.
Readers wishing to use the service should make their request at the Service desk on the ground floor of the library. Payment is made at the point of submitting the request, with the exception of urgent action requests which are paid for at the point of collection. Payment can be made by cash or cheque (when accompanied by a valid bank card) or a purchase order from the reader's department or college made out to "Inter-Library Loans". A receipt will always be given for cash transactions.
The charges for the normal service are a flat rate regardless of whether the request is for a photocopied article, the loan of an item or an SED (Secure Electronic Delivery).
Please note: An explanation of the term Secure Electronic Delivery (SED) can be found in our Library FAQs.
Standard Service
Our standard charges are based on a one to five day turnaround and are as follows:
University Members (including students, staff, resident and non-resident MA's/BA's:
Photocopies: £5.00
Loans: £5.00
Loan renewals: £5.00
Other registered readers:
University Library Temporary Store
University of Cambridge staff and students wishing to gain access to materials that have been marked with a library catalogue holding location of "UL: Temporary Store 2" can apply for inter-library loans to be obtained for them on a like-for-like basis. This will include physical material formerly held by either the Betty & Gordon Moore Library, the Central Science Library, the University Library or the Medical Library.
If an alternate online source or Cambridge location can not be found, then readers should use this electronic form to apply.
Theses
The British Library has a separate Electronic Thesis Online Service (EThOS) which you can register to use. There are 250,000+ UK theses that are currently available to download for free, so it is highly recommended that you check here for availability. If the thesis is listed but requires a fee to obtain, EThOS will digitise on demand. Users should be aware that this can take a considerable period of time and all costs are met by the end user. If the thesis you require is not listed on EThOS, you can apply via our Inter-library Loan service for a hard copy loan of the item at the standard ILL rate.
Standards
The University of Cambridge now has free on-campus access to the British Standards Online (BSOL) resource.
Shibboleth access is to be implemented by the British Standards Institute for off-campus authentication in the second or third quarter of 2018. The ejournals@cambridge team are working on providing access via EZproxy in the interim.
Access is available via the Cambridge LibGuides Database here: http://libguides.cam.ac.uk/az.php?a=b&q=BSOL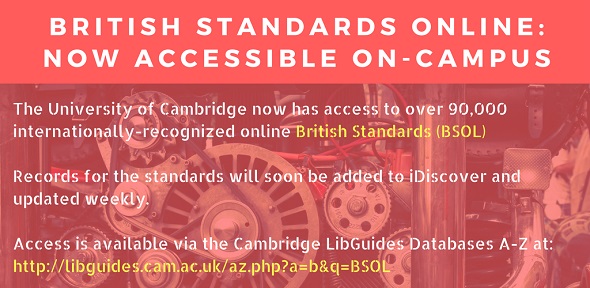 Other UK and Republic Of Ireland Libraries
Our library will accept direct e-mail requests for inter-library loans from libraries and institutions within the UK and Republic of Ireland, which are outside of the University of Cambridge. We handle all requests sent to CA/U-2 (which includes the Betty & Gordon Moore Library and the Materials Science & Metallurgy Collection). Please contact us using the e-mail: moore-ills@lib.cam.ac.uk
Please note: Certain parts of our collection are subject to restrictions. 
Restrictions that apply to our whole collection:
Our library does not lend journal material bound or unbound and all book loans are made on the strict understanding that they are not for home loan.
We do not lend books published pre-1900.
Restrictions that applies to material we receive through the Legal Deposit Act:
Legal deposit books are subject to a five year loan ban.
Legal deposit journals are subject to a two year scan/photocopy ban.
Payment for direct requests is by British Library Billing Account or pre-paid inter-library request form only. If using the billing account, requests can be phoned, posted, emailed or sent by web form if your browser supports forms. Please remember to supply your BL customer code and a request number when submitting the request.
Standard Service
Our standard service charges, based on a 2- 5 day turnaround and are as follows (please indicate which type you require on the request):
Copy of an article or chapter by scan: £8.15 + VAT
Copy of an article or chapter by post: £9.10 + VAT
Loan: £14.65
Renewals: £4.15
Urgent Action Service
Our urgent action charges, based on a 24-hour turnaround are as follows  (if you require a paper copy only please indicate on the request):
Copy of an article or chapter by scan or post: £12.10 + VAT
Loan - posted same day: £17.25
International Libraries
With the exception of libraries based in Republic of Ireland that can quote a BL Billing Account (see above), we do not loan to international libraries. For any international library that can quote a BL Billing Account number, we do accept direct scan/photocopy requests.
International libraries who cannot quote a British Library account number will need to apply, in the first instance, to the British Library Document Supply Centre stating that Cambridge (CA/U-2) holds the item in the 'Additional Details' field. BLDSC will then process and forward the request to us.
For more information please visit their website: http://www.bl.uk/services/document/dsc.html
Our standard service charges, based on a 2- 5 day turnaround and are as follows:
Scan: £8.15
Photocopy: £11.15