Within our walls, you'll find some of the more recent advances made in library study space design. We have added such facilities as study pods and portable blackboards, whiteboards, reading stands and beanbags to the pre-existing layout. These should help you to create your own ideal study space. If you have any other ideas on improving your study space, then please don't hesitate to contact a member of library staff.
Study Pods & Mini-Pods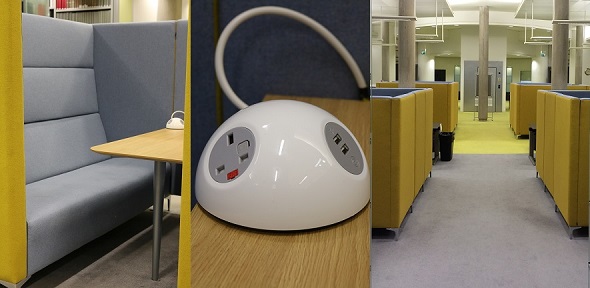 On the lower-ground floor, you'll see the library now has four large study pods and a couple of smaller mini-pods.
These comfortable, acoustic booths are designed to provide screening and restrict external noise. They are ideal for group discussion, supervisions or project work. Alternatively, they can be used for private study.
The large pods hold up to six people and the mini-pods comfortably seat two. They each have a table with easy-access USB / plug points for laptops, recharging phones, etc.
Any of our readers may use them at any time and they do not need to be pre-booked.
Blackboards & Whiteboards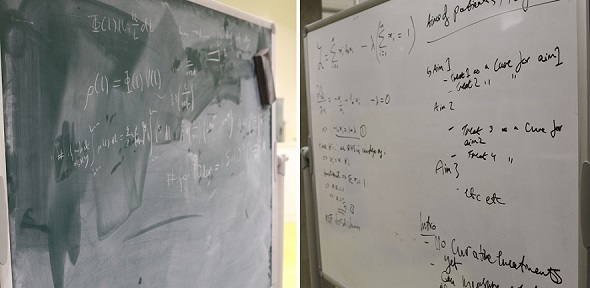 We now have several blackboards/whiteboards complete with chalk, white pens and erasers for you to use. Please feel free to move them, within the library, to your chosen study area.
Sit-Stand Workstations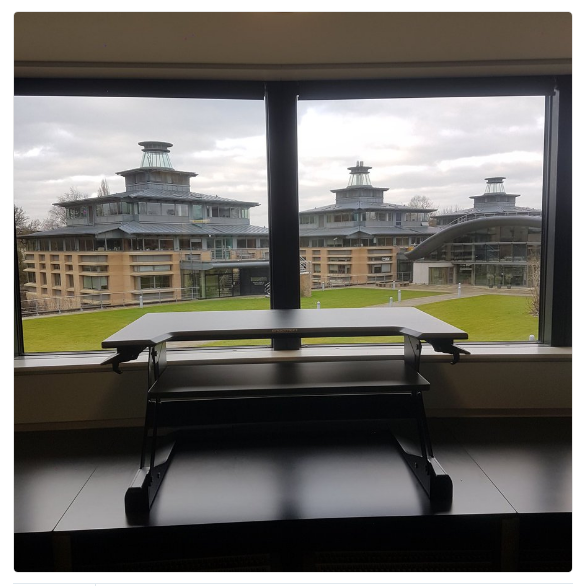 We have four sit-stand workstations located on the second, first and lower-ground floors. Each is fully-adjustable so that library users can sit or stand at a comfortable height. You will find near them some paperwork including a feedback form, so please do fill that in if you use the workstation - we'd love to hear your views. See a member of staff if you would like them moved to a different area of the library.
Beanbags & Reading Stands
These can be found scattered throughout the building and on each floor. Please feel free to move them, within the library, to your chosen study area.
The Glass Room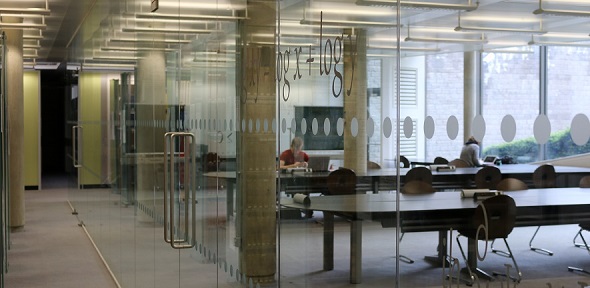 On the right side of the lower-ground floor is a large, open-plan, sound-proofed glass room with plenty of desk space and multiple power sockets.
The Pink & Blue Study Rooms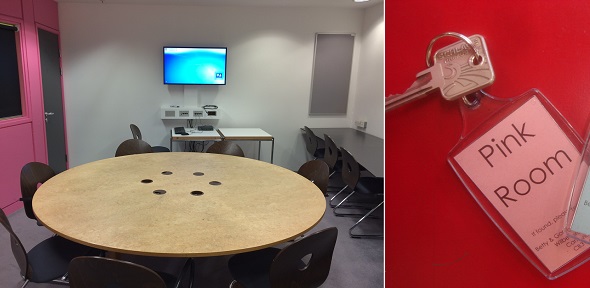 Behind the lift on the lower-ground floor, there are two bookable rooms (one Pink, one Blue) which may be used for lectures, supervisions, presentations, group discussions, private tuition or study.
Features:
Wall-mounted large screen monitors with PC, Laptop and HDMI connections (extra cables available on request)
Wipe-clean whiteboards with coloured water-soluble dry erase marker pens
Wi-Fi
Large tables for group discussion
Bench tables for private study
These may be booked by registered readers with borrowing rights, on a first-come, first-served basis. The rooms are available during staffed opening hours (9:00-20:45 Monday-Friday inside term time, 9:00-16:45 Monday-Friday outside term time and 9:00-12:45 on Saturdays).
Bookings may be made in advance using the link to the form below, in person at the Service Desk, or by telephoning (01223) (7)65670. Please have your University Card / UL Card to hand. Whilst we are happy to offer immediate access to the rooms if they are free, we would recommend that advance bookings are made to avoid potential disappointment.
Either room can comfortably accommodate 10 people each.
You can view the Study Rooms Booking Calendar and / or book a study room using this online Study Rooms Booking Form.