Feedback Form
We're always keen to hear your thoughts and findings on what you like and dislike about the spaces in our library.
If you would like to do so, please feel free to use our feedback whiteboard on the ground floor in the library.
Alternatively, you can leave some feedback (anonymously or otherwise) using this online feedback form.
Below are some selected comments. Click here to see the full Feedback Archive.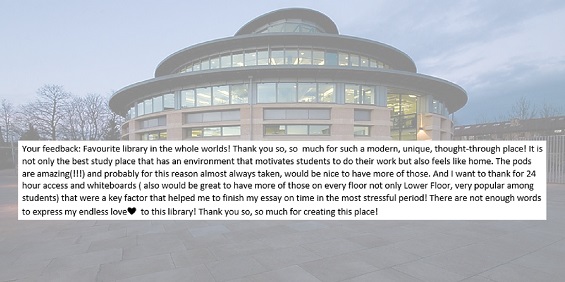 Other selected comments
| | |
| --- | --- |
| Comment: Increase the timer delays on lights on 1st and 2nd floors. | Feedback: All light timers that are over work areas will now stay on for an hour after initial activation - the lights will re-activate if you move around. We have to balance the need to provide appropriate lighting with our Green commitments (read here) to reducing the general use of energy and trying to limit the levels of light pollution. The latter being an issue for the local residents given the 24-hour nature of the site and this building in particular. |
| Comment: Perhaps a more humane way to deal with the moths? | Feedback: We will talk to Facilities about alternative approaches but suspect there won't be a system as efficient as the one we are currently using. The moths in this building have caused extensive and irreversible damage to the carpets throughout the building which, at some point, will be a considerable expense to the library to put right. As this isn't a bottomless pit of money we will have to sacrifice other projects in favour of making good the damage done by these insects. |
| Comment: Please put normal (not cone) cups next to the water machine, it's very inconvenient to use them/ impossible to put anywhere - water splashes. | Feedback: As a general library policy, we discourage the use of any form of open drinking cup. This is done to prevent accidental spillage onto books, furnishings and equipment (ours and yours!). Users are encouraged to use the cone cups attached to the dispensers and dispose of them in the bins provided, or bring their own bottles (those with lids) and fill them from the water dispensers. Also, please use the lids provided when purchasing drinks from the vending machine on the lower-ground floor.  |
| Comment: Kettle, please. | Feedback: At the time of writing, the use of kettles, by readers, in the library is strictly prohibited. The risk of injury or damage is too high. Any kettles brought in by readers will be removed by library staff and returned to the reader when they exit the building. For those requiring a hot beverage, a machine has been installed on Lower Ground. |
| Comment: Can people stop eating crunchy food and taking phonecalls when staff not here? It's distracting and worse after staff go home. | Feedback: Happily, our new unrestricted Break Space on the Ground Floor should help minimilise this as an issue and we do promote it in staffed hours. Out of hours, we do hope that users know to use it if they need to use phones / talk loudly / eat, thereby respecting each other and keeping the peace. |
| Comment: Food machine isn't paying out and has no healthy options. | Feedback: Cambridge Vending have now agreed to offer healthier snacks. If you or any other user has trouble obtaining a product from either vending machine, please see a member of staff. We will then contact the company and request a cash refund. |
| Comment: Please ask UIS (free) to enable dual-boot (MCS Windows + Linux) on the PCLIB-MOORE (1,2,3) same as all the other in basement etc. | Feedback: The three PCs you refer to are actually controlled by the University Library (UL) and sit on their MCS VLAN. This has been done so that we are able to provide IT services to external users that do not have CRSiDs. Linux isn't supported by the UL on their public machines, which is why it isn't on these three. We have dual-boot machines located throughout the rest of the building and it is very rare that they are all use. If you are finding that this continually isn't the case then let us know and we can investigate the service costs of extending our IT provision (currently upwards of £3000 - sadly, not free), though currently we have no plan to increase the number of machines or change the current configuration of the machines. |
| Comment: Water runs out at weekends. | Feedback: There are now water dispenser units on every floor. We will endeavour to ensure that each unit's bottle is replaced as soon as we are aware this is needed. That said, it is unavoidable, that occasionally all 4 units may run out at times when staff are unavailable to replace the bottle. Please note: These machines are not the property of the library they are rented from CoolerAid and as such we have a responsibility to ensure that the process of replacing the bottles is conducted properly so as not to damage the unit. |
Feedback Whiteboard Archive
2015/16
Board 1 | Board 2 | Board 3 | Board 4 | Board 5 | Board 6 | Board 7 | Board 8
2016/17
Board 9 | Board 10 | Board 11 | Board 12 | Board 13 | Board 14 | Board 15 | Board 16 | Board 17 | Board 18 | Board 19 | Board 20 | Board 21
2017/18
Michaelmas Term
Board 22 | Board 23 | Board 24 | Board 25
Lent Term
Board 26 | Board 27 | Board 28 | Board 29 | Board 30